Alta Sierra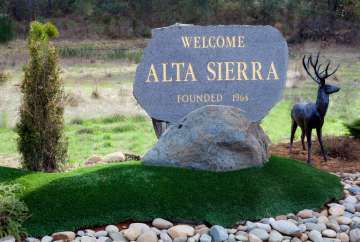 When it comes to preserving the natural landscape of the area, the development at Alta Sierra was built with this in mind. So much so that the community has the distinction of being one of only 531 Audubon certified Cooperative Sanctuaries in the world.
Because of that, residents enjoy not only the amazing beauty that envelopes Alta Sierra but they also get to enjoy the rare native wildlife that call this spot of land in the Sierra foothills home. Year round the natural migration of the geese, ducks, and other avian creatures is spectacular for birdwatchers to catch a glimpse of the rarer species right from their back porches.
Deer are well protected as they sip from the many natural and manmade ponds around the community. The people of Alta Sierra have embraced their duties as stewards of these grounds by building animal habitats within the community for the birds.
Alta Sierra Homes for Sale