Auburn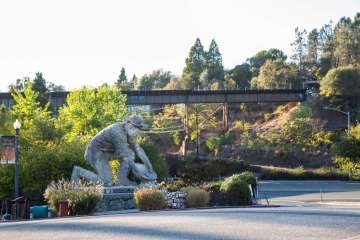 The history of the Wild West still lives on in Auburn, CA. The city is a wonder to look at both because of the natural surroundings and because of the "old west" layout of the city, which makes it one of the best-kept secrets of California.
Perhaps it is the unusual surroundings that makes Auburn the place to be for artists. This small community is a clash of time where the 1800's meet the 21st century. There are photos from the gold rush era in Auburn taken of city streets that still look and feel the same.
The only changes are the building facades and the paved streets and streetlights. It's a painting waiting to happen for artists. That is why the city continually invests in the performing and visual arts, attracting more and more of the art community to the city.
Located just north of Sacramento, Auburn sees a fair amount of rain throughout the year. Unlike many parts of California, this area actually gets to enjoy the changing of the seasons. On rare occasions, you may even see a bit of snowfall.
Yet the weather never gets too cold or too hot with winter lasting only a couple of months with temperatures in the low 50's while most days out of the year residents enjoy 70 and 80 degree weather. And since it is located at the base of the Sierra Mountains, historic glaciers have carved out breathtaking lakes and valleys all around the area while the mountain peaks provide picturesque views.