Grass Valley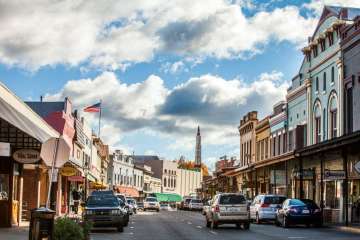 One of the original "boom towns" of the Old West, Grass Valley is where trekkers seeking wealth in the gold rush took a respite from their grueling travels. It is named for the flat green pasture that today is known as Grass Valley and is still serving as the green oasis for today's city weary home hunters of California.
A total of more than $25 million worth of gold ore was taken from the hills surrounding Grass Valley after 8 years of mining. It is that discovery that brought thousands over some of the roughest terrain through the Sierras to one of the first gold rush towns in America.
Many didn't make it over the famed Donner Pass, later named for the infamous Donner party tragedy. The ones who did make it through were in desperate need of water and grass for their cattle, mules, and horses.
What they discovered on the other side of the pass was a lush oasis of grassy pastures and a creek. Though the old gold rush town was known by many different names, the one that stuck, Grass Valley, reflects just what a relief it was for those early settlers to reach.
Once there and after making their claims, many who dug through the tons of quartz decided to settle right here in Grass Valley. The city went from a disparate array of shacks and cabins into a real live town. When the ore dried up, what was left behind was a dwindling population but a bonafide and proper old west town full of shops, eateries, and homesteaders.
Grass Valley Homes for Sale