Lake Tahoe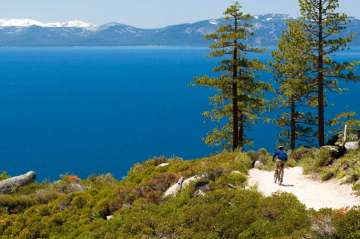 Lake Tahoe is number one in a lot of rankings: "America's Best Lake" – USA Today, # 1 ski destination – Rand McNally and Orbitz, # 1 travel destination – TripAdvisor. Yes, it's gorgeous, luxurious, and you can set up permanent residence in this top-rated vacation destination.
The exquisite Lake Tahoe is more than just a vacation destination; it is a dream home destination. With the deserts of Nevada to the east and the beaches of California to the west, Lake Tahoe is unmatched in the variety of life that it affords its residents.
Many don't realize that Lake Tahoe is made up of many tiny villages, each bringing unique flair to the city. Each side of the lake has its own culture. For instance, South Lake Tahoe is glitzy, and hosts many celebrities who visit during vacations.
North Lake Tahoe is, however, almost the complete opposite. It offers a laid back and easy going way of life. North Lake Tahoe might be a more casual lifestyle, but the landscape is extraordinary no matter which side of the lake you prefer. The outdoor fun to be had enjoying the natural scenery is endless.
Many artists find inspiration from the distinct loveliness of Lake Tahoe, with the lake encircled by small mountain peaks and tall trees. Sunsets reflecting colors of red, orange, purple and blue on the water are a sight that must be appreciated in person.
Lake Tahoe Homes for Sale