Nevada City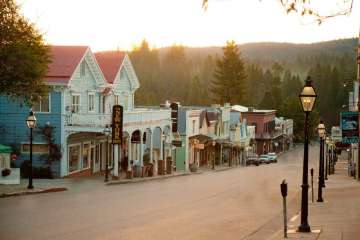 Of all of the gold rush boomtowns in California, many believe that Nevada City beats them all for their preservation of the history of the town. Since 1849 when the first speck of gold dust was discovered, Nevada City has blossomed into far more than an old gold rush town.
Nevada City: The Quintessential Gold Rush Town
Situated less than an hour north of Sacramento, Nevada City invites its newcomers to enjoy the best of this well protected quintessential gold rush town. In the city alone there are nearly 100 nationally registered historic sites and nearly 20 registered landmarks.
Almost all former gold rush towns try to maintain their histories by preserving as much of the town as possible. Yet like the ghost towns of old that disappeared as soon as all of the ore was gone and no more money was left to be made, progress has largely washed away a lot of that history.
But in Nevada City, the town made it a mission from the very beginning to preserve their fascinating heritage and maintain many of the original buildings from that era. It is a captivating part of American history that is a treasure to experience even today.
Nevada City Homes for Sale